On January 31 a supermoon, a blue moon and a total lunar eclipse will occur simultaneously for the first time since 1866.  The triple celestial...
Maori language week 11 - 17th September - Kia Ora
An invitation The launch of  Our Climate Declaration at any of four video-linked locations on Sunday, June 18th, 2017, from 3 to 5pm.
News
04 July 2008
4th July 2008
---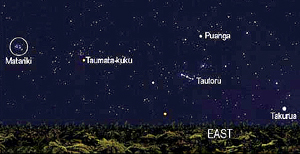 In the Eastern Sky -
Matariki - the Pleiades, seven sisters
Taumata-kuku
Tautoru
Puanga - or Rigel, the bright star
Takurua
As the winter starts to fade around August,
it is time to start preparing the land for planting
and the cycle of food gathering starts again.

As the natural world regenerates and another seasonal round begins,
Matariki is a time to pause and reflect –
on the year that was, and the year that will be.
---