Maori language week 11 - 17th September - Kia Ora
An invitation The launch of  Our Climate Declaration at any of four video-linked locations on Sunday, June 18th, 2017, from 3 to 5pm.
The 'People's Climate Rally' at the 2017 Petroleum Conference in Taranaki 21 - 23 March 2017 .  People across New Zealand are rising up against...
News
25 April 2008
25 04 2008 ANZAC Day - Taranaki
---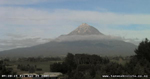 9.31am
The mountain looked very beautifull for the dawn and the dusk of ANZAC day.
Doing maintenance on the camera housing has been interesting - A colony of ladybird bugs are happily at home on the one of the wooden poles. Spiders have created mischief by building their webs across the front of the housing - these are the 'blurry moving objects' that ocaasionally appear in the image. I have to clear them - when I do this you may actually see my fingers in the view for a few seconds!.
---