The 'People's Climate Rally' at the 2017 Petroleum Conference in Taranaki 21 - 23 March 2017 .  People across New Zealand are rising up against...
Thanks to all those who supported us and helped pay for the 2011 Waitara Marine outfall hearings. Friends of Waitara river inc. refuse to stoop to...
26 July 2016  -  Just $747.00  to go ....The Waitara3 still need your help. Taranaki Regional Council is hounding 3 individuals for costs, not...
News
25 April 2008
25 04 2008 ANZAC Day - Taranaki
---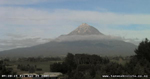 9.31am
The mountain looked very beautifull for the dawn and the dusk of ANZAC day.
Doing maintenance on the camera housing has been interesting - A colony of ladybird bugs are happily at home on the one of the wooden poles. Spiders have created mischief by building their webs across the front of the housing - these are the 'blurry moving objects' that ocaasionally appear in the image. I have to clear them - when I do this you may actually see my fingers in the view for a few seconds!.
---