An invitation The launch of  Our Climate Declaration at any of four video-linked locations on Sunday, June 18th, 2017, from 3 to 5pm.
The 'People's Climate Rally' at the 2017 Petroleum Conference in Taranaki 21 - 23 March 2017 .  People across New Zealand are rising up against...
Thanks to all those who supported us and helped pay for the 2011 Waitara Marine outfall hearings. Friends of Waitara river inc. refuse to stoop to...
News
23 April 2008
22 04 08 more rainbows at Inglewood
---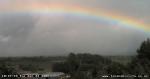 22 04 08 10 am
Inglewood and Kansas City - but maybe Dorothy and Toto were in Inglewood today.
---