On January 31 a supermoon, a blue moon and a total lunar eclipse will occur simultaneously for the first time since 1866.  The triple celestial...
Maori language week 11 - 17th September - Kia Ora
An invitation The launch of  Our Climate Declaration at any of four video-linked locations on Sunday, June 18th, 2017, from 3 to 5pm.
News
21 April 2008
22nd April 2007 4.58pm - this image is from 2007.
---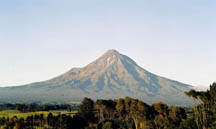 22 04 2007 4.58pm
This time last year there was a small amount of snow on the mountain and it was a late 'Indian Summer'.
As the days go by I will post up images matching the days from 2007.
---