Derek Andrews lives in New Plymouth and for him climbing nearby Mount Taranaki (altitude: 2,518 metres) has become a pastime.
Geologists think of Mt Taranaki as a "slumbering" volcano - active, in a state of quiescence, but certainly not extinct.
District Councils to monitor land farms. Mixing oil and gas industry waste products with our food production = risky.
Click here for a medium image - opens in new window
Click here for a larger image - opens in new window
Commentary and images from recent visitors to the mountain.
Just like people on earth are always curious about the dark side of the moon, during my three weeks' travelling in eastern and north eastern Taranaki, I always wondered: what's the other sides of the mountain like? That's why I started a three days journey on Sat Nov 7, 2015. I walked to Pouakai Tarns for the second time in the early morning, the mountain was clear so finally I got a nearly perfect photo, the breeze caused some ripples though. Then in the afternoon, I climbed to Fantham's Peak (1966 m) and stayed there overnight. The sunset and sunrise were amazing. The open view (yo dudes in South Island I was waving hand to you!), the halo of the sun, the shadow of the mountain, the orange colour on the snow, the silhouette of the three mountains in Tongariro National Park... Everything made me think I was lucky to be there. In the next morning, I went down the mountain and travelled along the Surf Highway 45 from Hawera to New Plymouth in two days. So finnally, I have seen all the sides of the mountain! :)

正如人類對月之暗面總是充滿好奇,在 Taranaki 東部及東北部已經呆了三個星期的我也常常想:這座美麗雪山的其他面是什麼樣子的呢?於是從2015年11月7日,我開始了一次爲期三天的旅程。7日清晨我再次快步走去了 Pouakai Tarns(午時經常會有雲霧形成),這次終於拍到了幾乎完美的照片。下午,我趕在日落前爬上了1966米高的 Fantham's Peak,並在那上面過了一夜。日落很美。廣闊的視野(南島的小夥伴我在向你招手!)、太陽的光暈、Tongariro 國家公園三座雪山的剪影......一切的一切都讓我感覺,我能在那個時刻站在那個地方是一種幸運。第二天早上看過日出後我走下了山,然後在接下來的兩天從 Hawera 沿着「衝浪高速45號」繞 Mt Taranaki 轉了一圈。她的每一面都很美。

吳善 Shan Wu - China.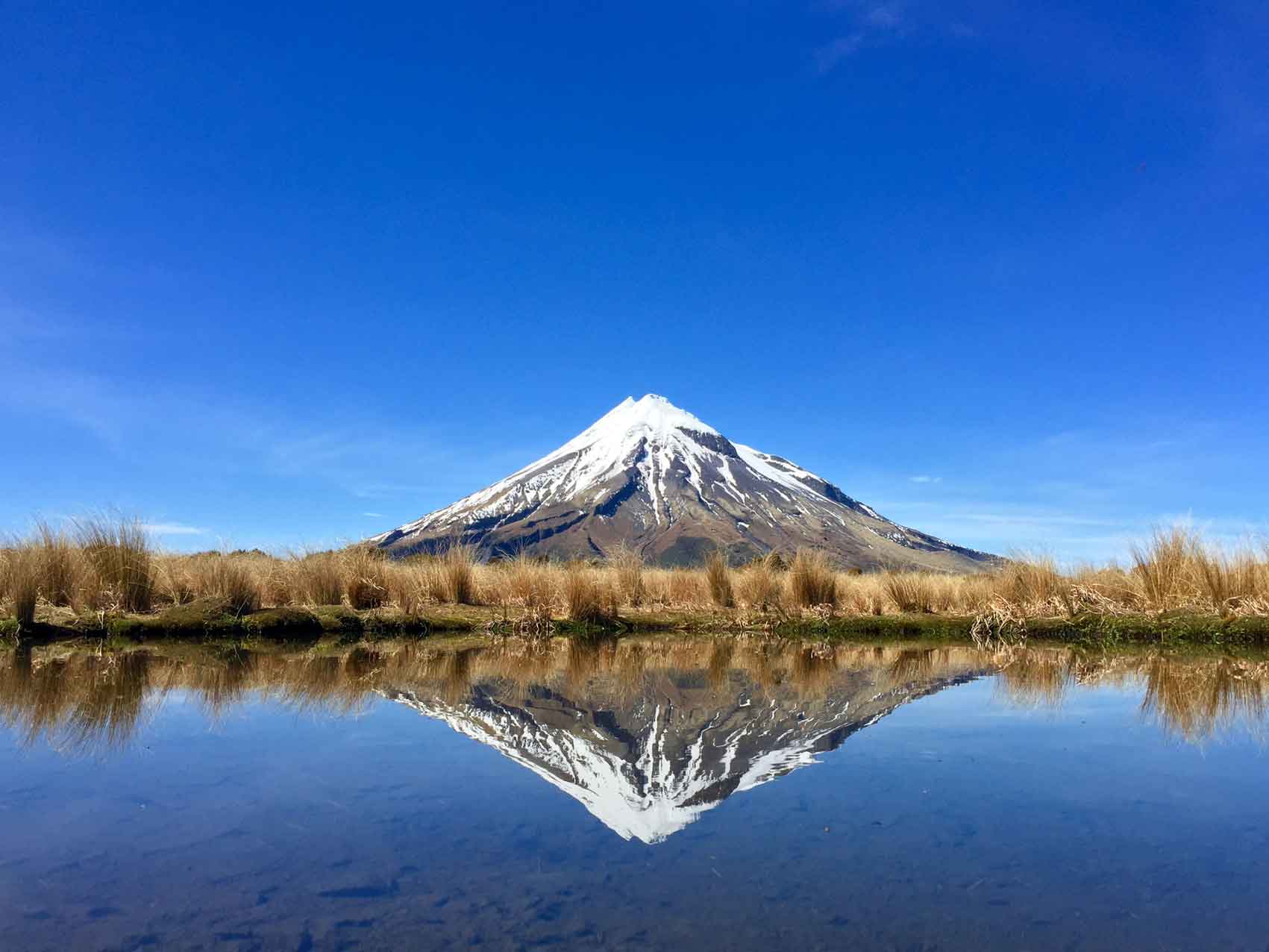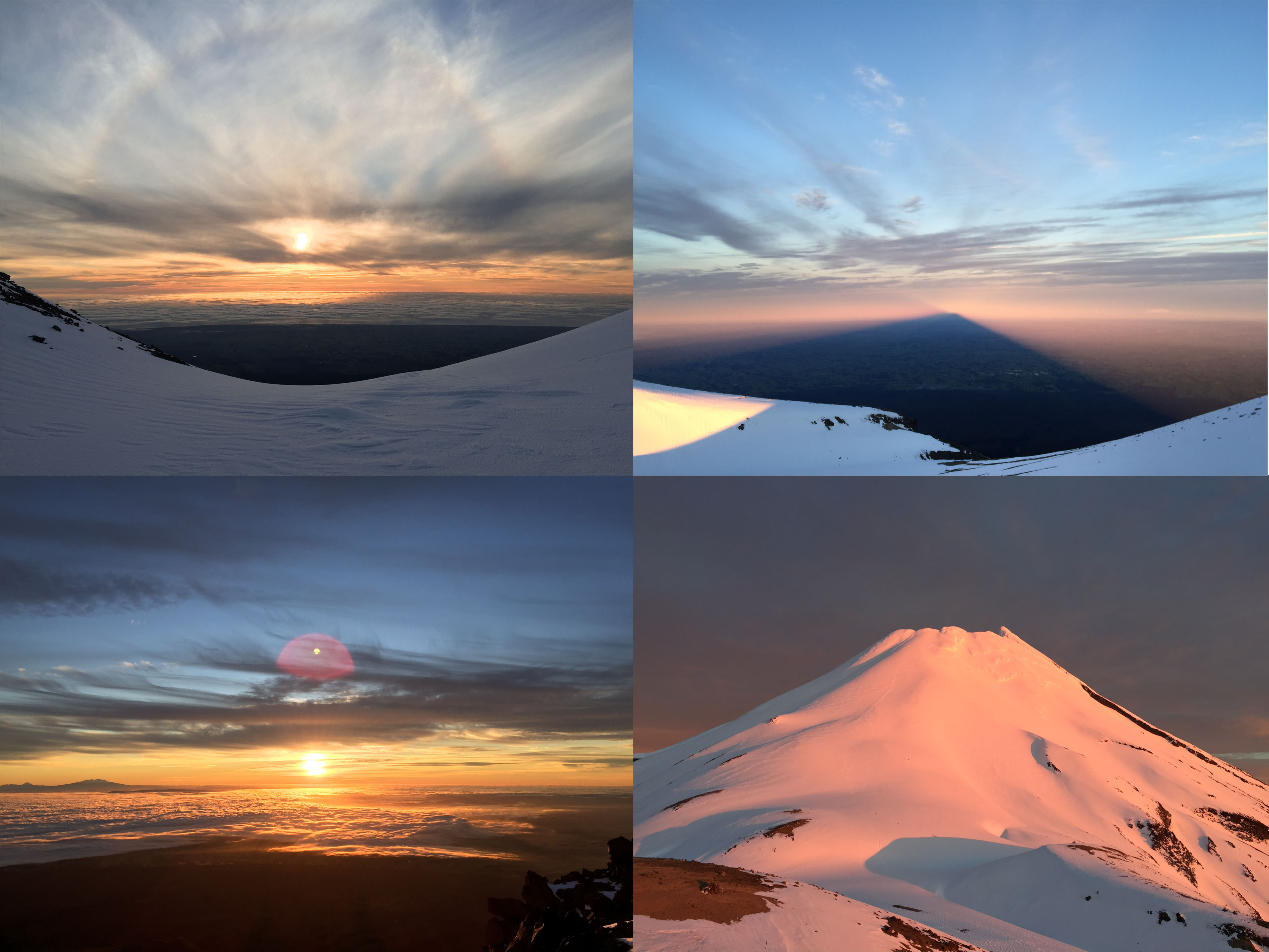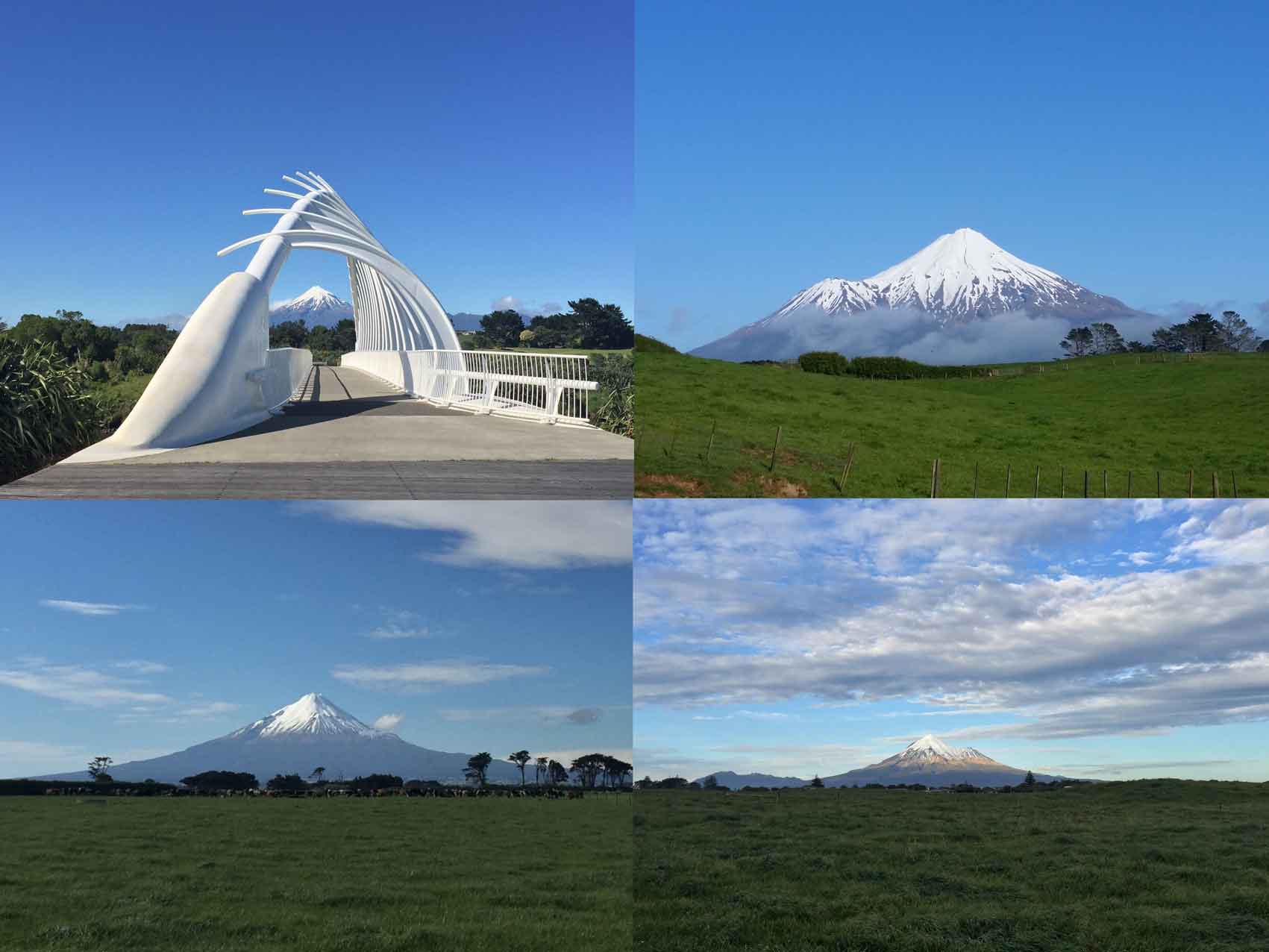 ................................................................................................... ..............................................
I went to Mount Taranaki on Wednesday 14th of October 2015. We arrived at the scene at 7:30am. The summit was clear, the sky was blue and the sun shone. The weather was mild. We walked to reach the ski resort, it was beautiful. I went back and I sat on a bench to admire the landscape and collect myself. I heard the birds field, the light was superb. Everything was quiet and relaxing. The view from above was absolutely gorgeous. I felt so well! Like a cherry on the whipped cream ..  I will never forget this moment of complete appeasement .. Thank you Mount Taranaki.
Je me suis rendue au Mont Taranaki le mercredi 14 octobre. Nous sommes arrivées sur les lieux à 7H30. Le sommet était dégagé, le ciel était bleu et le soleil brillait. La température était douce. Nous avons marché pour atteindre la station de ski, c'était magnifique. Je suis redescendue et je me suis assise sur un banc pour admirer le paysage et me recueillir. J'entendais le champ des oiseaux, la lumière était superbe. Tout était calme et reposant. La vue de là-haut est absolument incroyable. Je me suis sentie si bien, comme une cerise sur de la chantilly..  Je n'oublierai jamais ce moment d'apaisement totale..
Merci Mont Taranaki.
Ophelie Dreau - Bretagne.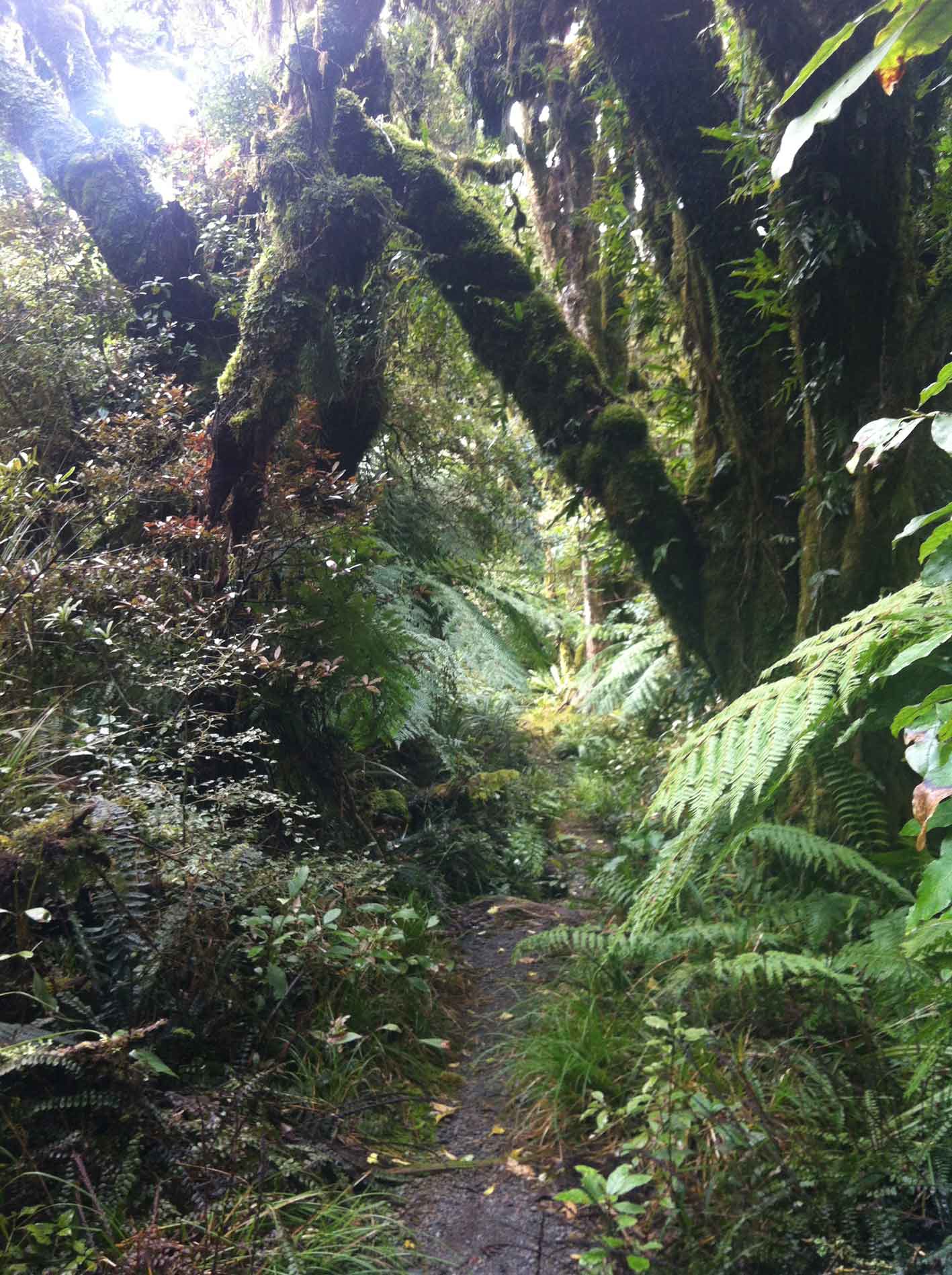 ---